TOWARDS THE END OF THE SCHOOL YEAR, SMPK-SMAK PLUS PENABUR CIREBON HOLDS AN ONSITE EVENT ENTITLED, "MY TRIBUTE: DREAM HIGH!"
EVENT - 02 June 2022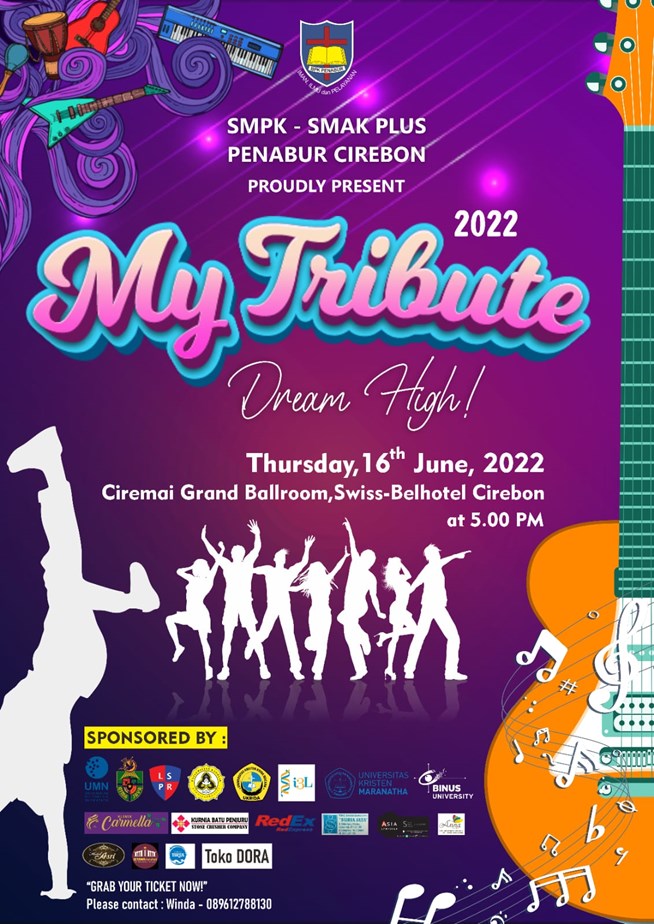 As an implementation of learning that refers to 21st century skills (Collaboration, Communication, Critical Thinking, and Creative Thinking), SMPK-SMAK Plus PENABUR Cirebon will hold a MY TRIBUTE 2022 "DREAM HIGH". MY TRIBUTE is a form of activity to perform students' talents and creativity.
MY TRIBUTE 2022 is an annual activity that has been carried out since 2020. This year the event will be held onsite at the Ciremai Ballroom-Swiss-Belhotel Cirebon on Thursday, June 16th, 2022 starting at 5.00 pm. This activity requires a lot of adjustment and effort because the preparations are carried out during Semester 2 Final Exams.
Don't be late to witness the excitement of this event. *Contact the committee immediately to get tickets.
Implementation of the Covid-19 Prevention Protocol is a priority. So, all activities are carried out by implementing strict health protocols, i.e: measuring body temperature, wearing masks and/or face shields, and maintaining distance.
See you at MY TRIBUTE 2022 | DREAM HIGH!!!
*Winda - 089612788130
.
.
.
#bpkpenaburcirebon
#smakpluspenaburcirebon
#smpkpluspenaburcirebon
#bpkpenaburberbagi
#bpkpenabursemakinpeduli
#penaburcirebonid
Informasi Terkini seputar sekolah kristen BPK PENABUR
Daftar Indeks Berita Terbaru dari BPK Penabur