STUDENT OF SMAK PLUS PENABUR CIREBON PASSED THE STUDENT ADMISSIONS SELECTION IN TOKYO INTERNATIONAL UNIVERSITY
ACHIEVEMENT - 10 March 2022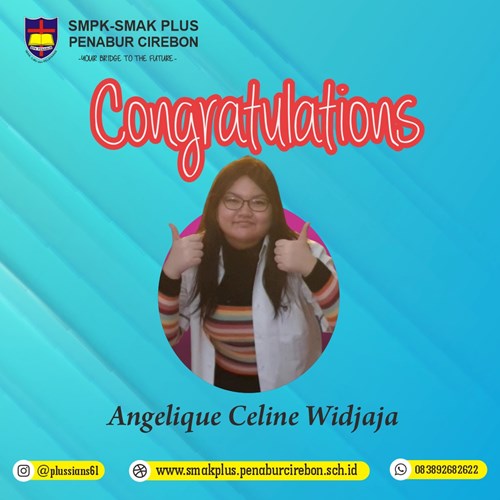 CIREBON, SMAK PLUS PENABUR - One student of SMAK Plus PENABUR Cirebon, Angelique Celine Wijaya, successfully passed the student admissions selection in Tokyo International University. She even gets a scholarship. This is an exciting thing for the school. Celine, who is known for her proficient ability in Japanese and English, has aspired to continue her studies abroad. Japan became her choice because apart from being fond of Japanese culture, she also considered that the quality of higher education in Japan was not inferior to universities in Europe and America. At TIU, she will take the Business majot. When asked about what things need to be prepared to enroll in a university in Japan, she mentioned several things.
"I've always been interested in Japan's culture and language ever since I was little. I've always dreamed of studying in Japan. My Japanese language skill isn't as good as a native speaker, so I was glad when I got accepted into TIU's E-Track Program which provided a curriculum taught fully in English". "I've learned basic Japanese skills, but aside from that, I also own a small business and I have a fairly good IELTS score. I applied for Digital Business and Innovation, and I think working on my small business played a part. I think my IELTS score also played a quite big part in this because one of the qualifications needed was having at least an overall score of 5.5 whereas I myself got an overall score of 7.5 in IELTS. If you're looking to get a scholarship for your next level of education, I recommend you to start preparing these kind of qualifications early on so you can immediately apply when you find somewhere you want to go to",she said.
Congratulations, Celine ! Have a great and wonderful study in Japan!
Informasi Terkini seputar sekolah kristen BPK PENABUR
Daftar Indeks Berita Terbaru dari BPK Penabur