KSN 2021 : CONGRAT'S TO GUSTAV & LUCKY, WE WISH YOU TO BE A WINNER
ACHIEVEMENT - 08 November 2021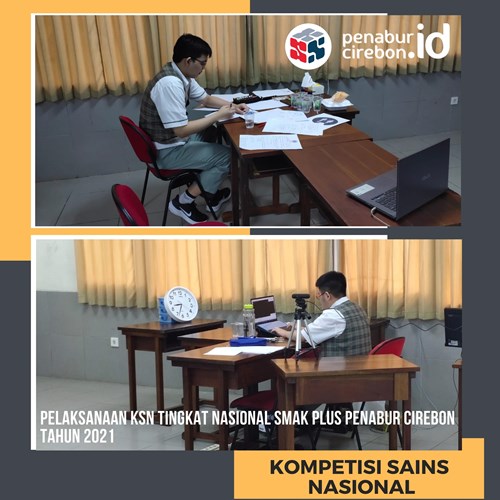 CIREBON, SMAK PLUS PENABUR - A  total of 2179 participants passed to the national level at National Science Competition this year (KSN 2021). Two students of SMA KRISTEN Plus PENABUR Cirebon managed to be the best part in the competition organized by the Ministry of Education, Culture, Research and Technology (Kemendikbudristek). This year, KSN is themed "Talenta Sains untuk Indonesia Tumbuh, Indonesia Tangguh". Due to this year's pandemic, KSN was held online on November 7-13, 2021.


Gustav Ian Setiabudi (Grade 10, Computer Informatics Technology) and Lucky Rafael Wijaya (Grade 12, Mathematics) participated in this online activity prepared by the school which begin on November 8, 2021. Both were placed in separate classrooms so not to be disturbed by learning activities in other classrooms. The media used is a set of PC equipped with a webcam. Surveillance is done with a zoom platform.


Regarding the mechanism of the KSN 2021, Asep Sukmayadi (Task Executor (Plt.) Head of Puspresnas Center) said that all levels were implemented by answering questions about both multiple choice and short essay. Everything is done virtually while still upholding honesty.


The purpose of KSN 2021 is to encourage the spirit learning, facilitate talent and interest to achieve the best achievements of learners in science. In addition, KSN 2021 is also intended to conduct networking and coaching for prospective participants in international science competitions.


"Congratulations to you who are always struggling and enthusiastic in learning. Keep performing good even in a pandemic situation and limitations! May this be an inspiration and motivation for students this year and in the years to come ",said Mr. Ubrodiyanto,the Principal of SMAK Plus PENABUR Cirebon.
Informasi Terkini seputar sekolah kristen BPK PENABUR
Daftar Indeks Berita Terbaru dari BPK Penabur