COMING SOON | PLUSSIAN DRAMA FESTIVAL 2022 IS BACK "A ROAD TO HAPPY EVER AFTER"
EVENT - 12 October 2022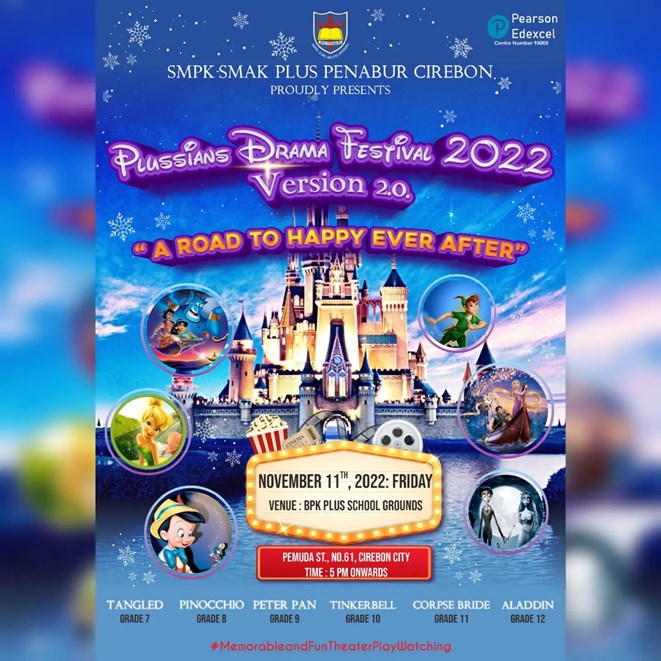 As an implementation of learning that refers to 21st century skills (Collaboration, Communication, Critical thinking, and Creative thinking), SMP-SMA KRISTEN PLUS PENABUR Cirebon will hold PLUSSIANS DRAMA FESTIVAL (PDF) 2022. 
PDF 2022, which has been carried out since 2019, is an annual English Drama Festival presented by students from each class. Stories are taken from popular international stories, especially from Disney. Some of the stories have been made into film stories too. In implementing PDF 2022, the students need literacy skills to be able to turn the story from a novel or book into a drama performance. 
With the theme, "A Road to Happy Ever After" for this year, PDF can also be watched and enjoyed by visitors (parents, students, and outsiders) this November 11st, 2022 at 05.00 pm onwards, at BPK Plus School Grounds by following the strict health protocols. 
Here are the special performances for this PDF 2022: 
Grade 7: TANGLED

Grade 8: PINOCCHIO

Grade 9: PETERPAN

Grade 10: THINKERBELL

Grade 11: CORPSE BRIDE

Grade 12: ALADDIN
The implementation of the Covid-19 Prevention Protocol will be our priority. It is done in order to create a secure feeling for the visitors. Therefore, all activities and preparations are carried out strictly by applying the health protocol, such as: checking body's temperature,use a mask or face shield.
Thank you students for your hard work and struggles given to this event. Thanks to the parents who have already supported their children to take part in it too. This will not be successful if there is no support from each one of you. 
 Thank you to all those who have supported our event, PLUSSIANS DRAMA FESTIVAL (PDF) 2022.
Informasi Terkini seputar sekolah kristen BPK PENABUR
Daftar Indeks Berita Terbaru dari BPK Penabur