SMAK PLUS PENABUR FINAL EXAMINATION 2021-2022
EVENT - 28 March 2022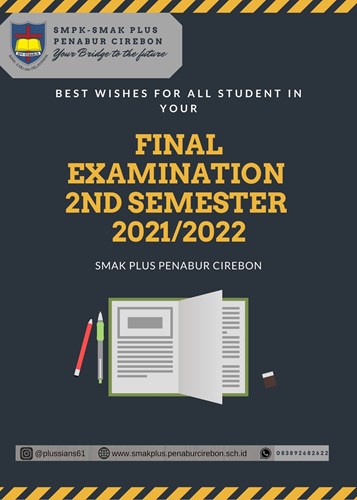 CIREBON, SMPK-SMAK PLUS PENABUR - After going through a long series of learning, coupled with the Covid 19 pandemic that has hit since March 2020, finally class XII students in 2021/2022 take the Final School Examination which will be held from March 21st to 25th, 2022.
The series of Final School Examinations has begun with the Final Practical Examination on 14 to 23 February 2022 and continued with the Written Final Examination. Enrichment programs to face school exams are also implemented to ensure students can get good school exam results/scores.
Keep in spirit on taking the 2022 school exams, 12th graders!
Informasi Terkini seputar sekolah kristen BPK PENABUR
Daftar Indeks Berita Terbaru dari BPK Penabur