SERVED AT GKI KUNINGAN IN BPK PENABUR ANNIVERSARY
EVENT - 25 July 2022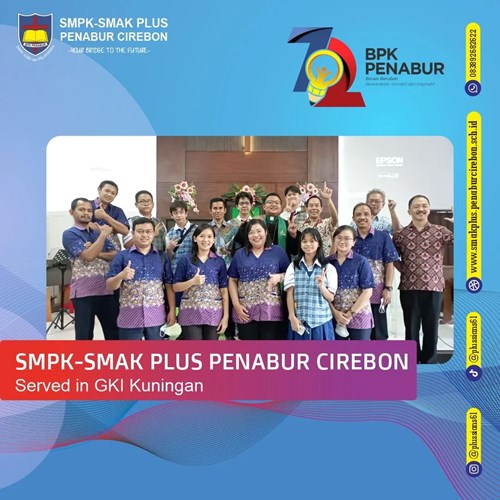 Cirebon, SMPK-SMAK PLUS PENABUR - The essence of life is to serve others and do good things. Last Sunday, July 24th, 2022 all of BPK PENABUR schools in Cirebon had an opportunity to serve in GKI Churches, and no exception for SMPK-SMAK Plus PENABUR Cirebon.
With the theme in our 72th Anniversary of BPK PENABUR, Dare to change: Have characters, Be innovative and be inspirational, our school served in GKI Kuningan at 08.00am and 10.00am (1st and 2nd sermons).
We use our God-given gifts to serve others, so that they can see the glory of God (1 Peter 4: 10).
Thanks to
@jerrald153_ashteirohougne
@rayjrmh
@brain_dagreat
@syerasyer_
@jonathanboasss
for completing our Sunday service with your pure heart to serve…
Happy Monday, Plussians!
May God bless you all..
.
.
#smpkpluspenaburcirebon
#smakpluspenaburcirebon
#bpkpenaburcirebon
#hut72bpkpenabur
Informasi Terkini seputar sekolah kristen BPK PENABUR
Daftar Indeks Berita Terbaru dari BPK Penabur