STUDENTS OF SMAK PLUS PENABUR CIREBON CONTINUE THEIR STUDY TO PTN (STATE UNIVERSITY). IS IT POSSIBLE ?
ACHIEVEMENT - 30 March 2022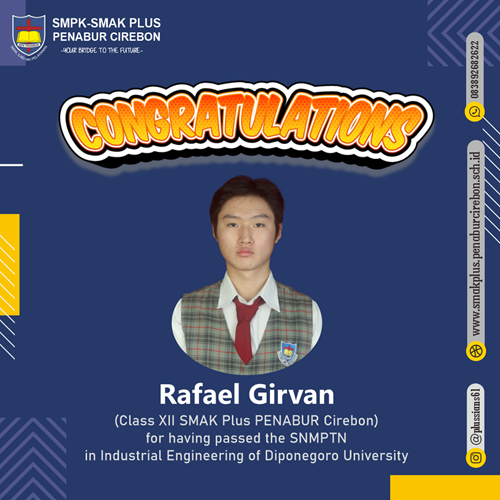 CIREBON, SMPK-SMAK PLUS PENABUR - Praise the Lord that one of SMAK Plus PENABUR Cirebon student was able to pass the SMNPTN 2022. He is Rafael Girvan, who passes SMNPTN and pinning his name as a prospective student of Industrial Engineering of Diponegoro University.

Rafael Girvan's passing continues the continuity of SMAK Plus PENABUR Cirebon students to pass SMNPTN from year to year. Rafael Girvan, who was also a Student Council activist, has long dreamed of becoming an engineer. He shared tips for his underclassmen who want to study at a state university to study as well as possible so that their scores of semester report are good, and of course to be active in organizations and other activities. "This routine achievement is proof that SMAK Plus PENABUR Cirebon is able to compete, while at the same time answering the doubts of parents about whether SMAK Plus PENABUR students can go on to PTN," said Mr.Antonius, Vice Principal of Curriculum Affair of SMAK Plus PENABUR Cirebon.
Informasi Terkini seputar sekolah kristen BPK PENABUR
Daftar Indeks Berita Terbaru dari BPK Penabur