ALL PARTICIPANTS FROM SMPK PLUS PENABUR CIREBON BECAME CHAMPIONS ON ENGLISH DAY !
ACHIEVEMENT - 30 March 2022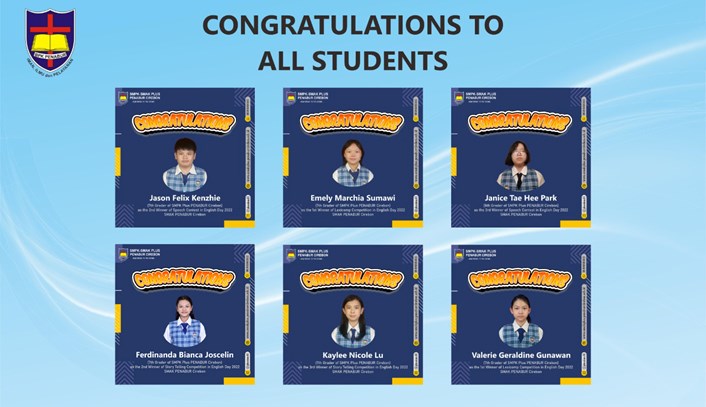 CIREBON, SMPK-SMAK PLUS PENABUR - Six participants from SMPK Plus PENABUR Cirebon who became school representatives in English Day, SMAK PENABUR Cirebon on Friday, March 25th 2022. All managed to bring the champion trophy, they are Ferdinanda Bianca Joscelin (G7) and Kaylee Nicole Lu (G7) who won the 2nd place and the 3rd place in Story Telling consecutively, Janice Tae Hee Park (G8) and Jason Felix Kenzhie (G8) won the 3rd place and the 2nd place in Speech Contest consecutively, and Emely Marchia Sumawi (G7) and Valerie Geraldine Gunawan (G7) won the 1st place in Lexicomp. What a proud achievement !
"Preparations were carried out for 3 weeks. There was a mid-test, so after that we immediately rushed," said Ms. Shinta, Secondary School English teacher and the mentor of the students.
Congratulations to all students. Hopefully your English skills will be an inspiration to others and strengthen your steps to achieve a bright future.