ENGLISH WEEK SDK PLUS PENABUR CIREBON "IN A LITTLE WORLD EXPLORER"
PUBLIC - 24 November 2021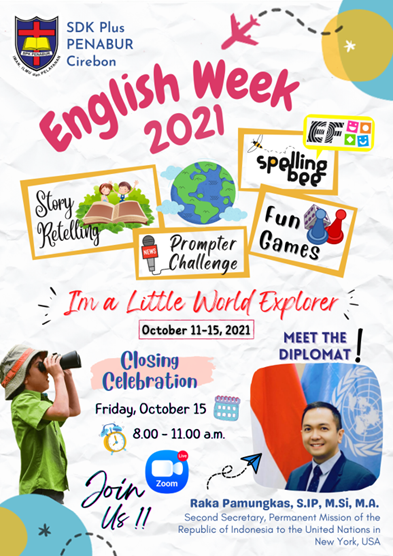 CIREBON, SDK PLUS PENABUR – On October 11th - 15th, 2021, SDK Plus PENABUR Cirebon held the virtual English Week. The event was full of excitement, competition, and determination. The theme was "I am A Little World Explorer." Students from grade 1 to grade 6 gave their best in various activities ranging from Spelling Bee Contest with English First Team, Story Retelling to Prompter Challenge. There are also a lot of Fun Games and prizes in the Closing Celebration of this event. 


One thing that made this event special was the presence of an extraordinary guest who joined the zoom meeting from New York, USA. He was Mr. Raka Pamungkas, the second secretary, permanent mission of the Republic of Indonesia to the United Nations in New York, USA. He shared his experience with all students; as a diplomat about how to live abroad with different cultures, he also gave the students some advice on achieving their dreams in the future. 


This English Week showcased the many talented students in public speaking and storytelling. Thank you to all students, parents, and teachers who have worked very well in organizing this event. Congratulations to the winners and all the participants!