An adventure No One Expected
BEST Teens Story - 17 September 2021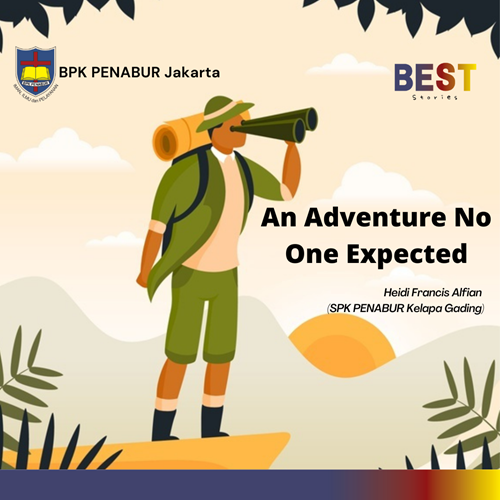 The plan was simple, it always was. Get the oldest object you can find and submit it to the teacher for the 'Looking to the past competition'. But of course, Clara Jane, the adventure-seeking girl, just had to make it complicated. She was a friendly, outgoing girl, seeking for new adventures. Jake, on the other hand, was more of an inclusive-boy, they all say. He liked the rain, books and mysteries. Polar opposites attract, Clara and Jake were best friends. Makes total sense, right? Homework, partner work or even secret-work, they were always together, no matter what. And that's how they got stuck in a restricted forest full of, you guessed it, trees.
"How did we get stuck here anyways?" Clara asked.
"Seriously? You were the one who accepted the dare Mike gave," Jake replied in a grumpy voice. "We wouldn't be here if it wasn't for you. We won't be able to go join the competition now."
Clara sighed. "You know we never back-out a dare, Jake. We're not sore losers like those scaredy-cats in school who just run to the classroom."
The forest was full of birds, although bats are technically not really birds are they? It was the evening and the sun was setting. Clara and Jake were officially lost. Moments later, they had found a clearing in the forest with arrows shot in the ground. It was like a path had opened up right in front of them.
"Oh look! There's a clearing! We should follow it and see where it leads us to. This is like a dream come true, an adventure!" Clara squealed like a girl, in which Jake did not expect that kind of voice. "At least, I think it'll be an adventure."
"Are you sure though? I don't want to get booby-trapped like those skeletons lying over there," Jake voiced in, pointing to a clump of skull and bones lying in the right side of the path.
"Oh, come on! It might be a mystery you'll want to solve," Clara winked.
Jake thought about it for a while and agreed to Clara cautiously knowing if she gets too excited, she might not think straight. And with that, they followed the path.
Turns out, there weren't any booby-traps; just a lot of bats coming to scare them. The skulls were just there in order to scare people off and not follow the path. They were walking for a precise 1 hour and 26 minutes until the path stopped abruptly. There were two sticks in the colour of maroon so it looks like a red. They were shaped into an X. 
"Hey look!! There are X shaped sticks on the ground. I think it might be a treasure!" Clara yelled at Jake, who was 7 steps behind her looking at a tree in front of them.
"Yes, I know that. Although I think it might be a booby-trap, because there is a net on top of the tree which is right above you!" Jake stated, who came back to the treasure's spot.
"So, what do we do now?" Clara asked.
"We need to know what triggers the booby-trap. For all we know, one single step could trigger a booby-trap. We need to cut down the ropes of the net and find the source of the trigger, which I think is under the sticks," Jake replied casually. 
Clara just gave Jake a confused-surprised look.
Jake noticed the look and said, "What? I read a lot of mystery books. Maybe, too much."
They went to work as quickly as possible. Clara cut the ropes and Jake disabled the trigger under the sticks. And so, the digging started, after a minute of digging, Clara felt a wooden box underneath the soil. Not wasting a second, they opened the box and saw an old lantern that was used before electricity and modern technology were made. It was rusty, but still well-shaped. And there was a diary too. It belonged to someone with the initials N.T.
"Wow! Look at this. This is like really looking into the past. Look at this lantern, it's so old fashioned! I think this might belong in the 1500s! We could enter this into the competition!" Clara exclaimed. 
"And look at this diary, it must've been thousands of years old. The owner is talking about wheat bread and beer. Must've been pretty old, I mean who eats that combination anymore? It even says nearly everyone lived on farms and rural communities," Jack remarked.
Not even noticing, night time has fallen. Clara and Jack were scared to death. They were actually still lost in the middle of the forest.
"Oh god! It's already night time. We're actually lost. What do we do now?" Clara panicked. 
"You know, I don't only read mystery books. Hansel and Gretel have taught me a few tricks to do. I knew we would get lost being adventurous. I thought twice, and brought fake shiny gemstones. I've been dropping them all the way, while you were searching for treasure. So, we just have to follow the path and find the gemstones and go back home," Jack replied in a sassy voice.



"You're a genius! What would I do without you?" Clara asked, hugging her best friend.
"You'd be lost, I'll tell you that. Let's just go home."
After getting out of the forest, they both say their goodbyes and sneaked in their houses. 
The next day, they gave their 5000-year-old diary and lantern to the 'Looking into the past' competition. Fortunately, they won the competition. They had the oldest item in the competition. The prize was getting featured in the school's not-so-popular magazine. Even if they 're not famous, they would still consider it an adventure, even if it was unexpected. As for the objects, they donated it to the museum as it isn't right to keep something that wasn't theirs. It was an adventure no one expected.
Writer : Heidi Francis Alfian (SPK PENABUR Kelapa Gading)