CONGRATULATIONS GUSTAV IAN SETIABUDI FOR WINNING SILVER MEDAL OF KSN MATHEMATICS 2020
Prestasi - 09 November 2020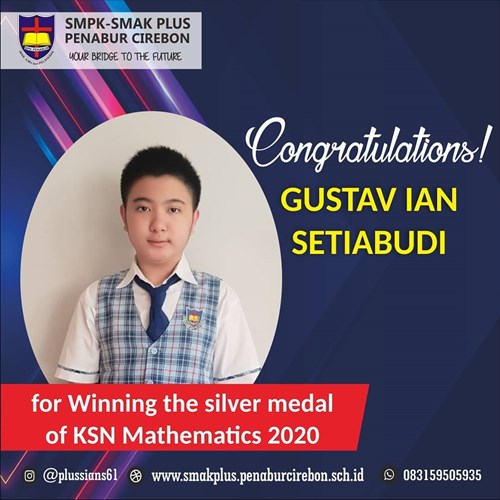 Persistent and consistent efforts will certainly give good results. Congratulations to Gustav Ian Setiabudi for winning the Silver Medal of KSN Mathematics 2020. We are happy and proud of you. Your readiness to face the next challenges is our best hope
KSN(Kompetisi Sains Nasional or National Science Competitionis) is a national level competition in the field of mathematics,science,and social studies for elementary, middle and high school students. KSN, previously known as the National Science Olympiad (OSN).This competition is expected to be able to lead students to master science and technology. This competition is important in maximizing the potential of students.
"At first it was a little confusing. You know, because of Covid pandemic this competition has been delayed for an indefinite period. But,I tried to use that time to prepare myself as well as possible. That's my impression. Thank you for the support of family, school and friends, "Gustav concluded.
It should be noted that SMPK-SMAK Plus always encourages the students to participate and prepares the best in various competitions.